Raritan Valley Symphonic Band – 40th Anniversary Pops Concert
"Give My Regards to Broadway" – John Hylkema, Conductor
Sunday, June 11 @ 3 pm
Bridgewater-Raritan High School, Bridgewater, NJ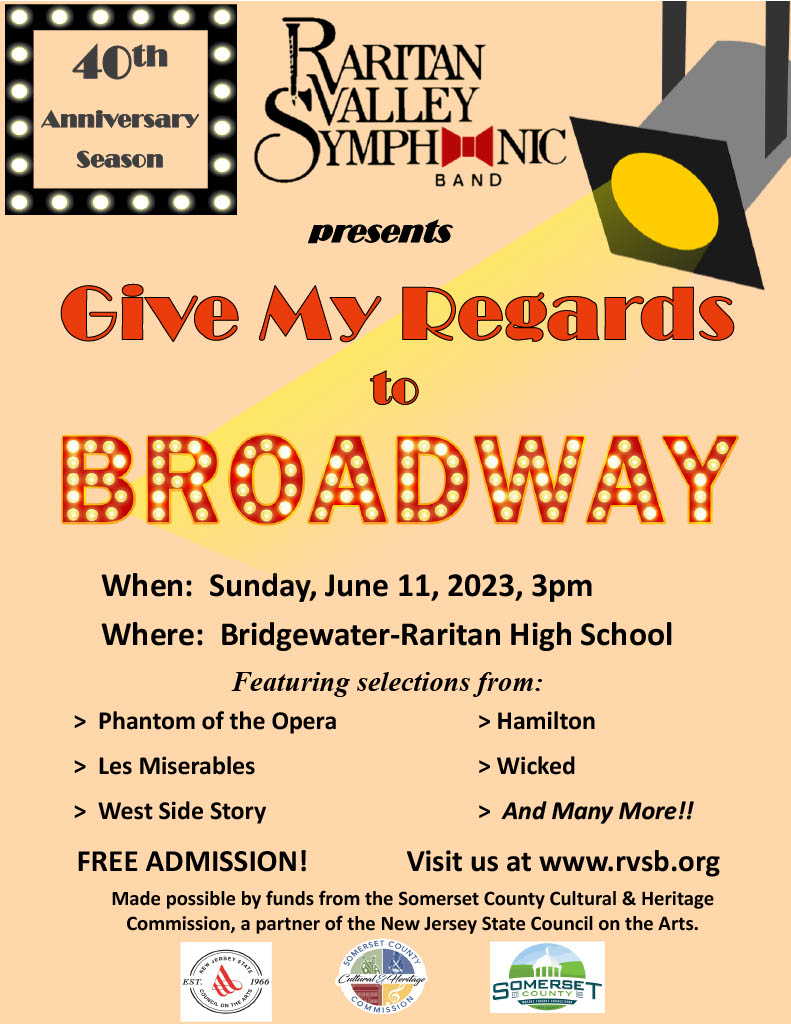 The Raritan Valley Symphonic Band under the direction of John Hylkema, will celebrate its 40th anniversary season with its annual Pops Concert, "Give My Regards to Broadway" on Sunday, June 11 at 3 PM. The concert will be held at Bridgewater-Raritan High School, 600 Garretson Road, Bridgewater, NJ.
The RVSB closes out its 40th Anniversary season with a tribute to some of the most iconic musicals of the 20th and 21st centuries. The program begins with Give My Regards to Broadway, the piece made famous by George M. Cohan for his 1904 play Little Johnny Jones. Next, we pay tribute to the music of Rogers and Hammerstein in The Golden Age of Broadway. This medley features musical numbers from several of their most famous productions of the 40s and 50s such as Oklahoma, Carousel, South Pacific, The King and I, and The Sound of Music. As we continue our musical journey through the 1950s, we are treated to the sights and sounds of River City, Iowa in 76 Trombones from Meredith Wilson's The Music Man, and the forbidden love story of Tony and Maria in a medley of tunes from Leonard Bernstein's West Side Story.
The 1970s and 1980s transported us back to the 1920s in Chicago, the French Revolution in Les Miserables, the early days of the bible in Joseph and the Amazing Technicolor Dreamcoat, and the hauntingly beautiful Phantom of the Opera, which became Broadway's longest-running musical. In the 1990s, Disney made its leap from the screen to the stage with their debut musical Beauty and the Beast and opened the door to nearly a dozen other productions in the coming years including The Lion King, The Little Mermaid, Frozen, and more.
As we enter the new millennium new faces and stories were told on stage such as Stephen Schwartz's Wicked – a backstory of the witches of Oz, and Lin-Manuel Miranda's Hamilton which brought hip-hop to the American Revolution and introduced an entirely new generation to the story of our founding fathers.
RVSB comprises about 60 musicians from the northern and central New Jersey area. Band membership includes professional musicians and music educators, as well as amateur musicians ranging in age from high school through retirees.
As always, admission to the concert is FREE. This concert is made possible by funds from the Somerset County Cultural and Heritage Commission, a partner of the New Jersey State Council on the Arts.