Tribute to America 
Conductor 
John C. Hylkema

For this concert, we celebrate America, its landmarks, its composers, and its music!  You will hear many traditional American marches such as American Exultant by Henry Fillmore, National Emblem by E.E. Bagley, and The Stars and Stripes Forever by John Philip Sousa.
The program includes an arrangement of Lowell Mason's hymn tune MyFaith Looks Up To Thee, as well as two medleys by American-born composers Irving Berlin and George Gershwin.  These medleys include favorites such as This is a Great Country, This is the Army, Mr. Jones, Give Me Your Tired, Your Poor and God Bless America (Berlin) and An American In Paris, Strike Up the Band, and Rhapsody in Blue (Gershwin).
Additionally, the band will be performing a tribute to the life and presidency of Abraham Lincoln entitled With Malice Towards None by James Swearingen.  The program continues with God's Country by Rossano Gallante, and Rushmore by Alfred Reed, which depict many of our wonderful landmarks.  The program concludes with a musical salute to our armed forces, where we request the veterans in the audience to stand to be recognized for their invaluable service during their respective
branch theme song.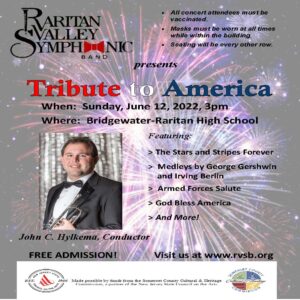 Audience Requirements for the June 12th concert remain unchanged:
– All attendees must be vaccinated
– Masks are required to be worn by all attendees

– Audience social distancing will still be following (seating every other row)
Concerts will begin at 3pm. 
Bridgewater High School