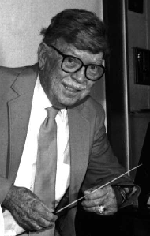 Dr. Isch founded RSVB in 1983 and was the conductor until 1998.  He was an accomplished violinist and his distinguished career included being a Professor of Music at The New Jersey College at Trenton where he served as Band and Wind Ensemble Director for 20 years and Director of Student Teaching for all music education majors. During that time, he was the Associate Conductor of the Creative Arts Symphony Orchestra and also organized the New Jersey High School Band Festival. He served as adjudicator and Massed Band Conductor of the Atlantic City Press Band Festival at Convention Hall for seven years. He was guest conductor at numerous band festivals including The New Jersey Region III All State Band, The Eastern Pennsylvania Band, The New Jersey All Shore Band, and The Salem County Band. Dr. Isch also lectured and adjudicated for the annual Teen Arts Festival at Burlington County College and conducted the Moorestown Community Chorus. He was the Director of Music at the Lutheran Church in Haddonfield, N.J. For 22 years.
Besides conducting, Dr. Isch's contributions to music education were many. His article, published in The Instrumentalist Magazine on Manual Aptitude Tests in Music resulted in his system being adopted in numerous public schools nationwide. He also had articles published in The Music Educator's Journal. His choral music was published by Schmidt, Hall & McCreary and The Chelsea Collection of Handbell Music was published by Harold Flammer. His vision for the future was demonstrated in his doctoral dissertation as he was one of the first to show the value of teaching music via videotape.
Tony's farewell concert with RSVB was on June 13, 1998 and was widely publicized in the area's newspapers. Our members will be forever grateful for the vision he had as a leader in spreading the love and appreciation of music to the community.