Rehearsals for our 2023/2024 season began on September 6th!
We are excited to announce this season's concert schedule, which can be found on the above "Concert Dates" tab.
Feel free to contact [email protected] with any questions about the band or membership inquiries.
Rehearsals are held weekly from September through June on Wednesdays from 7:30 pm to 9:30 pm at Bridgewater-Raritan High School in Bridgewater, NJ. When the Bridgewater location is unavailable for rehearsals, our alternate rehearsal location is at Franklin High School in Franklin, NJ. In unusual circumstances, alternative locations may be scheduled.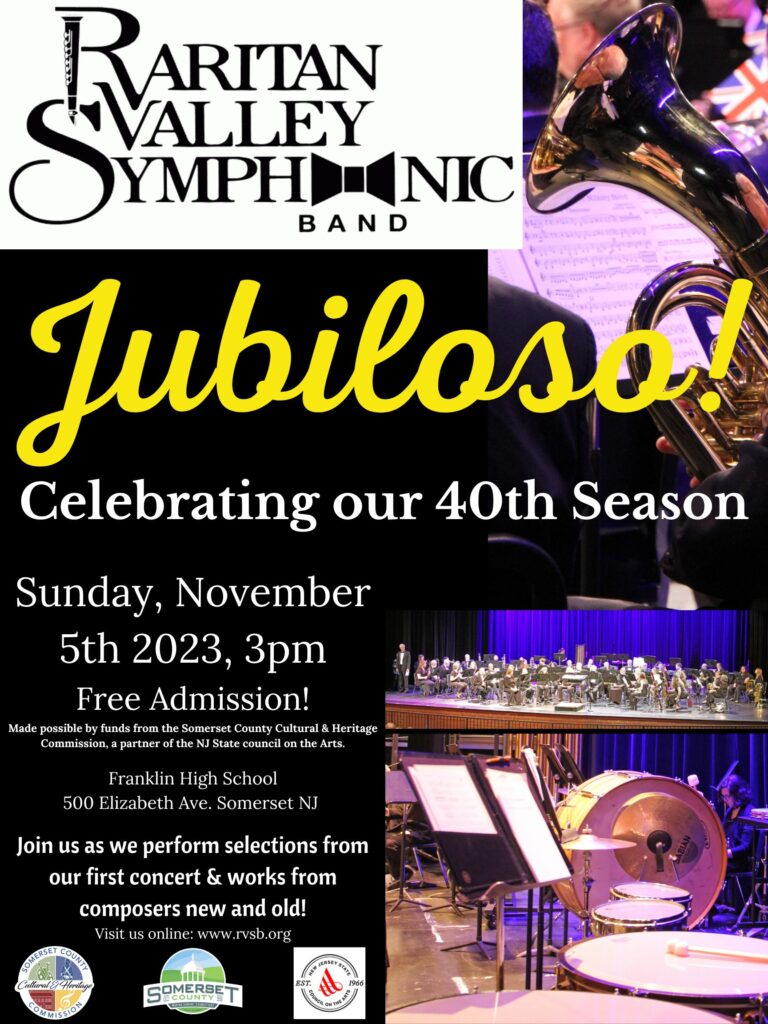 The Raritan Valley Symphonic Band returns to Franklin to start its 41st season with its Fall
concert, "Jubiloso", on Sunday November 5 at 3 PM. Under the direction of Frank Amato, the
concert will be held at Franklin High School, 500 Elizabeth Avenue, Somerset, NJ where the
RVSB performed a well-attended concert last April. Admission is free!

"Jubiloso" is a musical term used to direct musicians to perform in a jubilant or exalted manner.
Throughout the upcoming season, the RVSB will be jubilantly performing works from its initial
concert in March 1984. For this Fall concert, the RVSB will perform a musical journey of the
history of the Concert Band through some of its most popular composers.

The concert begins with one of America's most popular marches: E.E. Bagley's National
Emblem March. Next is Percy Grainger's Irish Tune from Country Derry using the theme from
the traditional old air "O Danny Boy" with colorful sonorities, straightforward accessibility, and
a memorable climax.

The band will then perform two concert band standards: Frank Erickson's Toccata for Band and
Robert Pearson's Minuteman March. The first half concludes with Eric Osterling's regal
arrangement of March & Procession of Bacchus from the Ballet Sylvia by Leo Delibes, the
foremost composer of French ballet music.

The concert's second half begins jubilantly with Andrew Boysen Jr.'s Kirkpatrick Fanfare, with
an Irish flavor that features driving rhythms, exciting brass figures, and a vibrant ending. In
contrast, Eric Whitacre's Sleep which follows is warm and harmonious emphasizing the simple
and plaintive sound of wind instruments.

Steven Bryant composed MetaMarch in 2003 to celebrate the RVSB's 20 th anniversary. This
parody piece quotes familiar themes from several popular marches (Americans We, Liberty Bell,
and National Emblem), as well as Chester, and MetaMarch also includes several humorous
surprises.

The concert concludes with John Mackey's Strange Humors, which features the djembe, an
hourglass-shaped drum played with bare hands originating from the west African countries of
Mali and Guinea. As an encore, the band will perform John Phillip Sousa's traditional Stars &
Stripes Forever.

RVSB comprises about 70 musicians from the northern and central New Jersey area. Band
membership includes professional musicians and music educators, as well as amateur musicians ranging in age from high school through retirees.

This concert is funded, in part, by a grant from the Somerset County Cultural and Heritage
Commission.