The Raritan Valley Symphonic Band was founded in 1983 by Dr. Anthony Isch, former Director of Bands at the College of New Jersey. In 1998, Dr. Isch became the Band's Conductor Emeritus, handing the baton to Dr. Jerry Rife, Professor of Music at Rider University, who served as the Band's Music Director through June 2001. Our next Music Director, Dr. William Berz, former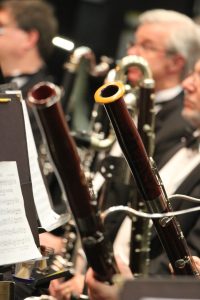 Director of Bands at Rutgers University, led the band from 2001 until 2005. Larry Markiewicz led the band from 2005-2013. Dr. Christopher Sumner directed the band from 2014-2022. Dr. William Berz has returned to conduct the RVSB following the tenure of Dr. Sumner.
The Band currently has approximately 60 members, who represent a cross-section of musical society, including professional musicians and music educators, as well as amateur musicians ranging in age from high school through retirees. The purpose of the band is to contribute to the musical environment of the community, to provide an outlet for individual musical expression and growth among our members, and to affirm the community concert band position in American music.
The band performs at least 5 free concerts annually in Somerset County. In addition, the band has performed at the Association of Concert Bands national convention, the NJMEA convention, and the John Basilone Memorial concert.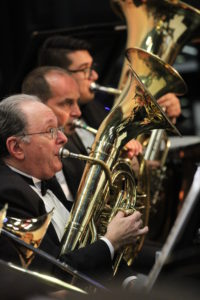 The Band is proud of its tradition of supporting New Jersey artists, and bringing outstanding guest soloists and conductors to perform in our concerts. Recent soloists have included Phil Smith, principal trumpeter with the New York Philharmonic, George Balog, clarinetist; James Markey, trombonist with the New York Philharmonic; cornetist, Bryan Appleby-Wineberg; tuba soloist, Scott Mendoker; saxophonist, Paul Cohen; clarinetist, Maureen Hurd and trumpet soloists Kenneth DeCarlo. Guest conductors have included Chris Wilhjelm, conductor of the Goldman Band; Chief Master Sergeant Edward Teleky, Drum Major of the US Air Force Band; Lt. Commander John Pastin, US Navy Band (ret.) and Joe Alessi (NY Phil principal trombone). For its 20th anniversary in 2004, the Band commissioned its first work, MetaMarch by Steven Bryant, which is now being published by BCM International and commissioned "In the Most Silent Hour" by Kenneth Lampl for its 30th anniversary.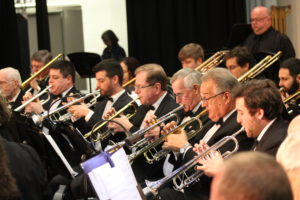 The Band is also committed to continuing music education for the community. As part of its outreach program, the Band sponsors master classes and master band clinics with its guest soloists and guest conductors, which are offered without charge to area music students and adult musicians. An annual Children's Concert in February is designed to introduce the various band instruments to a younger audience.