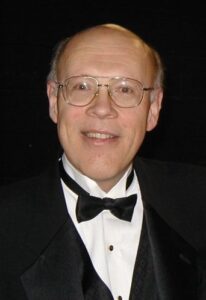 Dr. William Berz
William Berz returns to the podium of the Raritan Valley Symphonic Band in 2022 after his initial time as conductor in the early 2000s. He is Professor Emeritus at Rutgers University where he served on the faculty for almost 42 years. He taught classes in music education and literature, and conducted a wide variety of performance ensembles, including bands, orchestras, contemporary music groups, and opera. He won the praise of many distinguished composers, including Charles Wuorinen, David Del Tredici, Michael Colgrass, Norman Dello Joio, Karel Husa, Roger Nixon, Walter Hartley, Eric Whitacre, Steven Bryant, Jonathan Newman, Martin Ellerby, Adam Gorb, David Holsinger, Jack Stamp, Kenneth Lampl, John Mackey, David Gillingham, Jan Van der Roost, Felicia Sandler, Michael Daugherty, Joseph Willcox Jenkins, and H. Owen Reed. With the Rutgers Wind Ensemble, he released 24 CDs on the Mark Masters, Naxos, and Ravello labels.
Dr. Berz served as Music Director and Conductor of the New Brunswick Chamber Orchestra and the New Jersey State Youth Orchestra. He was also the Assistant Conductor of the Jupiter Symphony and Naumburg Orchestra, both of New York City.
In addition to his work as a conductor, he is active as a researcher and writer. He has published a number of articles and presented many sessions in music education and conducting. He is co-author of two books: Sourcebook for Wind Band and Instrumental Music and Applications of Research in Music Technology. He has articles published in Psychology of Music, Music Perception, The Bulletin of the Council of Research in Music Education, The Journal of Research in Music Education, The WASBE Journal, Brass Herald, The Journal of Band Research, The Grove Dictionary of American Music (Second Edition), A Composer's Insight (vol. 2-4), Teaching Music through Performance in Band (vol. 1, 5, 6-10), and The Art of Interpretation of Band Music. He was the editor of the WASBE Journal for twenty years beginning in 1999. Several of his arrangements for band are published by leading firms.
At Rutgers, Dr. Berz has served in a number of different administrative posts in addition to his teaching assignments. He was Chair/Director of the Music Department from 1994 until 2002 and again from early 2018 until 2021. He was Acting Dean of the Mason Gross School of the Arts in 1997.